How Google Instant Changes the SEO Landscape
Google Instant launched. It is a new always-on search experience where Google tries to complete your keyword search by predicting what keyword you are searching for. As you type more letters the search results change.
Short intro here:

Long view here:

Not seeing it yet? You can probably turn it on here (though in some countries you may also need to be logged into a Google account). In time Google intends to make the is a default feature turned on for almost everyone (other than those with slow ISPs and older web browsers). And if you don't like it, the feature is easy to turn off at the right of the search box, but to turn it off it uses a cookie. If you clear cookies the feature turns right back on.
Here is an image using Google's browser size tool, showing that when Google includes 4 AdWords ads only 50% of web browsers get to see the full 2nd organic listing, while only 20% get to see the full 4th organic listing.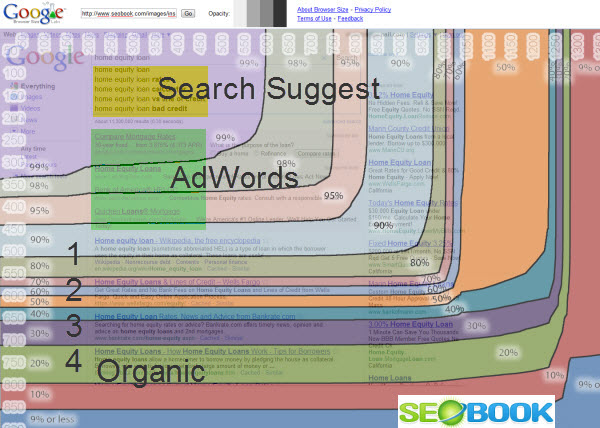 Its implications on SEO are easy to understate. However, they can also be overstated: I already saw one public relations hack stating that it "makes SEO irrelevant."
Nothing could be further from the truth. If anything, Google instant only increases the value of a well thought out SEO strategy. Why? Well…
it consolidates search volume into a smaller basket of keywords
it further promotes the localization of results
it makes it easier to change between queries, so its easier to type one more letter than scroll down the page
it further pollutes AdWords impression testing as a great source of data
Related posts: